Fake goods warning for Stoke City fans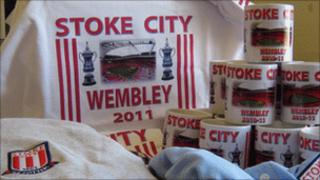 Stoke City fans are being warned about a significant increase in fake club merchandise ahead of the club's FA Cup semi-final at Wembley.
Stoke-on-Trent City Council said there had been a rise in unlicensed club memorabilia for the game against Bolton Wanderers on 17 April.
Trading Standards officers seized counterfeit club mugs and t-shirts from a Tunstall trader on Friday.
Selling fake goods carries a maximum 10-year jail term and unlimited fine.
The trading standards officers said the counterfeit goods had displayed the name Stoke City with pictures of the FA Cup, both of which are registered trade marks and cannot be copied without prior permission.
Andrew Billingham, the club's head of commercial operations, said: "The success, and indeed the growth, of our retail operation is a vital source of revenue to the club as we compete at the highest level.
"There is obviously heightened demand for our merchandise at present with the club preparing for a trip to Wembley and we would urge supporters to use official club stores or mobile outlets to avoid being sold products that are often poor in quality."