Painsley College receives Anne Frank Trust sapling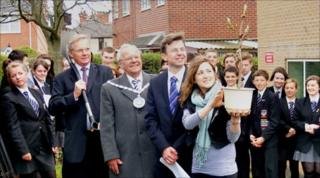 A sapling, one of few awarded by the Anne Frank Trust, has been received and planted by a Staffordshire school.
Anne Frank's diary is an iconic work written during the persecution of the Jews in World War II. In it she wrote of the tree that she could see from her window while she was in hiding.
Cuttings from the original tree are awarded to initiatives that combat prejudice.
The trust picked out a project at Painsley Catholic College at Cheadle.
A sapling from the same cuttings can be seen at The White House in Washington.
'Real passion'
Teacher Lauren Nicholson-Ward said the award had been made following a project in which Year 11 children at the school had created 65 'tags', in the form of anonymous messages, which had been left in random spots around the school grounds.
The messages contained quotations from The Diary Of A Young Girl, the diary created by Anne Frank, as well as excerpts from Scripture, and the students' own thoughts.
In recommending that they receive a sapling, Anne Frank's sister Eva Schloss praised the pupils' work. She said: "The work reflected real passion and dedication for the cause."
The trust describes the Anne Frank Tree as a symbol of hope and of resistance against the prejudice and hatred that led to Anne's death.