Ex-marine attempts 40lb record run in London Marathon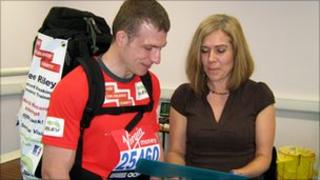 An ex-Royal Marines commando from South Cheshire is attempting to break a world record at Sunday's London Marathon.
Lee Riley from Willaston, near Crewe, is aiming to complete the course in under three and a half hours while carrying a 40lb pack on his back.
The current record of 4 hours and 42 minutes is held by multiple world record endurance athlete Paddy Doyle.
Earlier this year, Mr Riley broke the unofficial half-marathon record for carrying the same load.
Mr Riley, a personal trainer, has been guided by specialists at Manchester Metropolitan University's sports science facility based in Crewe.
'Negative splitting'
He said the team had really helped him.
"Just knowing there's other people, when it can be a lonely road, that are around, that you can ring.
"You know they've done lots of training themselves, they've obviously got lots of letters after their name - they're not stupid.
"You listen, and I've listened, and it's paying off."
Claire Pheasey, a senior lecturer at the university, says their main challenge was to get Mr Riley's pace right.
"As an ex-marine, he goes for it and does as much as he possibly can and actually a lot of my work has been teaching him about the strategies of completing a marathon.
"It's about holding him back and not going out too fast and about what we call negative splitting - aiming to do the second half of the race father than the first."