Glyndebourne reduces number of operas in Stoke-on-Trent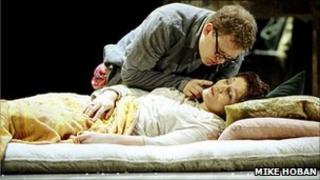 A renowned opera group has decided to do fewer shows in Stoke-on-Trent after its Arts Council grant was reduced.
Glyndebourne Opera has partly blamed its decision on low ticket sales at the Regent Theatre in Hanley.
David Pickard, the group's general director, says reducing the number and range of operas for north Staffordshire audiences will save money.
Previously it performed three operas in a week of shows but that will now be cut to three performances of one opera.
"The truth is, Stoke is an expensive place for us to visit because it's furthest away from our home base," said Mr Pickard.
"It is the place where audience numbers are lower than for other venues on the tour, and therefore, putting it crudely, we can save money by simply taking fewer performances to Stoke."
Mike Keane, from the Regent Theatre, rejected the idea that audiences were any lower in Stoke-on-Trent than in other areas of the country. He thinks the shortfall in income is due to ticket prices.
"If I look at last year's audience numbers, ticket sales held up pretty well in comparison to other venues on the same tour.
"I think the real difference is the fact that a ticket for Glyndebourne in Stoke this year is about £41.50, in some other venues, such as Woking, you'd be paying £70."
Annual grant
And while he is disappointed with the news, he says he fully understands the reasons for the reduction in this year's tour.
"I have to say that their rationale for only bringing one opera to Stoke this year, given the cutbacks that they've had, makes perfect sense to me.
"Although it's not necessarily what we all want to hear," said Mr Keane.
The Regent Theatre receives an annual grant of more than £600,000 from Stoke-on-Trent City Council to ensure a broad programme of events. But is that money achieving what it needs to?
John Holmes, strategic manager for Culture and Tourism at the city council, insists the grant is value for money.
"The reason that we fund the theatres is to provide a good range of quality entertainment... so that local people can enjoy theatre at relatively affordable prices."
Glyndebourne's situation is similar to many other art organisations who all experienced cuts of 6.9% in 2011 by Arts Council England.
But the opera group, which is based in East Sussex, says it is "delighted" with the settlement for 2012-15 which works out at £1.7m each year.