Divers toast royal wedding underwater in Tamworth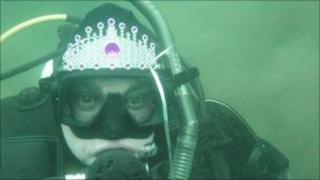 Divers in Staffordshire decided a street party was not the only way to mark the royal wedding.
The National Scuba Diving Centre in Tamworth organised a dive party, where, for 12 hours, divers went underwater to toast the happy couple.
The event, at Dosthill Quarry, was open to spectators with a large screen so no-one would miss anything.
Chief instructor Ian Forster said a royal wedding was a rare event and a chance to do something different.