CWU members march in Stoke-on-Trent over fears for jobs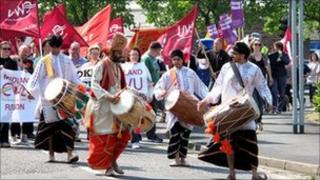 Members of the Communication Workers Union (CWU) have taken part in a protest march through the streets of Hanley over the potential loss of 400 Royal Mail jobs in Stoke-on-Trent.
About 200 people demonstrated against the possible closure of the customer contact centre in Etruria.
Maxine Tuck from the CWU says workers are "scared for their jobs".
Royal Mail insists that while a review is taking place, there are no current plans to close the centre.