Scaffolding along a street in Stoke-on-Trent collapses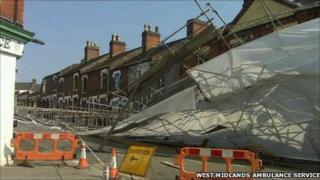 Scaffolding around a row of terraced houses due for demolition in north Staffordshire has collapsed.
The scaffolding had been erected in Wellington Road in Hanley, Stoke-on-Trent. The Health and Safety Executive is investigating.
West Midlands Ambulance Service said it was called to the street at 1030 BST.
A spokesman said: "Although there were workmen there, no-one was hurt; a very lucky escape indeed given the size of the structure that had fallen."
Fire crews also attended the scene.
Cars damaged
A spokesman for Staffordshire Police said the road was closed to prevent people entering the area.
He added: "Two cars parked in the street sustained damage in the incident.
"The matter will now be passed to the Health and Safety Executive who will be investigating the matter further in due course.
"Workman are currently on site clearing the road and making the site safe."
Wellington Road is expected to remain closed for 24 hours.