Firefighters remain at Staffordshire woodland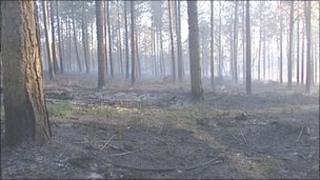 Fire crews could still be at the scene of a Staffordshire woodland fire throughout the weekend, officers say.
At the height of the incident which began on Monday, eight fire engines were at Million Woods, Kinver.
Five fire engines and two specialist appliances were still at the scene on Thursday.
Alan Bateman, from Staffordshire Fire and Rescue Service, said he believed operations would last another two to three days.
He said: "A specific hazard that we're meeting now is that the tree roots have been undermined by the fire and the firefighting action.
"Many of the trees are being displaced, so the weight of the tree is taking it down."