Cheadle's Bethel Church mixes worship with work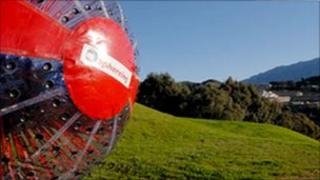 Bethel Church in the Staffordshire Moorlands town of Cheadle mixes worship with work.
Upstairs is the headquarters of extreme sports company SphereMania, while downstairs, the congregation of New Way Church gather on Sundays.
SphereMania specialises in "Sphereing" (sometimes known as Zorbing) - launching people down hills in huge inflatable balls at up to 30mph.
Owner Robert Price says it is an ethical business working with Christian principles.
He said: "We very much openly promote ethics and honesty within business."
'Jolly person'
Operations manager, James Littler, says that about 85% of the employees are Christian.
"You tend to have a different employee when you employ someone that has a religious background than someone who doesn't," said Mr Littler.
"The people that are close with God tend to be more focussed at their work and tend to work a little more and be just a jolly person around the workplace.
"We enjoy working and worshipping in the same place but we all have the clear boundary from one to the other."