Leighton Hospital reports no cases of MRSA in 15 months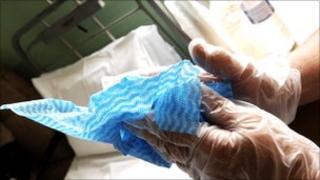 Leighton Hospital in Crewe has had no MRSA infections in 15 months, hospital managers have said.
Infection control teams have used a number of measures including steam cleaning on wards and screening of all emergency admissions for the infection.
The hospital said it has also carried out a high profile publicity drive to encourage people to wash their hands.
Infection rates of MRSA and C. difficile have fallen steadily at the hospital in the past six years.
Karen Egan, associate director for Infection Prevention and Control at Leighton, said: "We hope our patients will be reassured by this excellent achievement and the fact that the trust has been referenced by the North West Strategic Health Authority as the best performing small acute hospital in England."
'Significant reductions'
"However, an ongoing reduction in infection rates will only continue if our patients and their relatives support the measures in place within our wards and departments.
"Effective hand hygiene is an essential part of the fight against infection, and relatives and visitors must ensure that they keep themselves and their loved ones safe at all times.
"This includes not visiting if they themselves are feeling unwell, or if there is a seasonal episode of gastroenteritis circulating within a hospital ward," added Ms Egan.
In Staffordshire, the University Hospital of North Staffordshire (UHNS) reported 22 cases of MRSA over the past year.
A trust spokesperson said: "University Hospital has made significant reductions in its MRSA rates, down from 114 five years ago to 22 in the last 12 months.
"This is four fewer than the previous year, but still not the level of improvement we had planned for. We have introduced a range of measures over recent years that have led to the reduction.
"The trust is looking to see what we can do further to attain the same level of success that some other large teaching hospitals have achieved."
Stafford Hospital had two cases of MRSA between March 2010 and 2011.