Monkeys 'predict' Stoke City will win FA Cup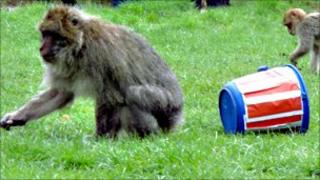 A troop of monkeys in Staffordshire has "predicted" a win for Stoke City in the FA Cup final, a wildlife park says.
According to the Barbary Macaques in Trentham Garden's Monkey Forest, the Potters will beat Man City 3-2 in their first FA Cup final on Saturday.
Primate pellets and bananas were placed beside two coloured buckets representing the teams' red and white-striped kit, or pale blue strip.
Three monkeys went to the Stoke bucket and two chose Manchester City's bucket.
Trentham Monkey Forest director Sue Wiper said the tribe of 70 monkeys was free to roam around the Trentham Gardens estate.
Paul the Octopus
She said: "Because of the numbers of monkeys around, potentially we could have had a much higher score, but this one seems quite feasible, so we are fairly confident they will be right, but it's just a bit of fun really."
The wildlife park is home to 140 monkeys in total and Tuesday was the first time any of them had their predictive skills put to the test.
Ms Wiper said she hoped they would follow in the footsteps of other "psychic" animals to correctly predict sporting results.
Paul the Octopus correctly called the outcome of eight matches in the 2010 World Cup - including predicting that Spain would beat the Netherlands in the final.
His mantle was later taken on by his cousin, Ollie, who was named after Blackpool manager Ian "Ollie" Holloway.
Popcorn Park Zoo in New Jersey, US, also houses a prophetic camel called Princess who holds an impressive record for picking winners in American football.