BBC Domesday Reloaded paints picture of Staffordshire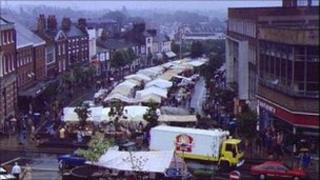 Staffordshire people are being asked to take a walk down memory lane back to 1986 - when Margaret Thatcher was Prime Minister, mullets were the craze, Maradona's 'Hand of God' was the talk of England and the ZX Spectrum was the game console of choice.
In 1986, the BBC ran a Domesday project (inspired by the epic Norman book) asking people across Britain to help paint a picture of life in the mid-1980s.
The UK was divided into 3km (1.9 miles) by 4km (2.5 miles) rectangles, called D-blocks and these areas were allocated to schools, Women's Institute groups, scout troops and enthusiastic individuals.
These people were asked "to capture and record the life and landscape of the 1980s in their area, using photos and text". Some 9,000 of the blocks were completed, generating 23,000 images and 150,000 pages of text.
Staffordshire stories
In Staffordshire, residents commented on everything from issues affecting their local area to the seemingly trivial - all of which gave a valuable insight into life 25 years ago. Here are just some of the things that people recorded:
The Garden Festival opening on the site of the old Shelton Steelworks
After effects of the Miners' Strike
North Staffordshire's Victoria Theatre in Hartshill moved just up the road and became the New Victoria Theatre
Gillian Lomax sent in her memories of the Potteries Marathon
Lee Murfin and Gary Latham talked about the perils of break dancing to impress people
Stephen Spence won a year's subscription of the Buster comic for his funny impression of Margaret Thatcher
A day in the life of Donna Redman
Domesday 1986 was hugely successful at gathering information. But in one important aspect it was a failure: the data was preserved on then state-of-the-art laser discs and was never accessible to the public.
Now that is going to be put right as the BBC publishes all of the 1986 Domesday community data online. It's a record of life a quarter of a century ago - and was done without the help of email and the internet, so the potential to gather information in 2011 is enormous.
The BBC is asking people to help paint a picture of what life is like in the UK in 2011, compared with 25 years ago. Britain has been split up again - using the same grid - for Domesday Reloaded, which runs until November.
People are being asked to explore the photos and articles from 1986 to find out how life in Britain has changed today... and how some things have stayed the same. Maybe you have information or an image which can update what was submitted in 1986?
To get involved, go to Domesday Reloaded website. If you want to know anything more about the project, you can e-mail the team: domesday@bbc.co.uk. Everything we gather will be preserved for future generations at The National Archives in Kew.
'Amazing stories'
To raise awareness of the Domesday project, BBC Radio Stoke programmes include a trip to Staffordshire University to look at 1980s computers and game consoles with scientists from the University comparing them with today's technology. The University's IT Department has uncovered a Domesday machine in its own collection and has been busy trying to get it to work again.
A Domesday Reloaded Experience is also coming to The Potteries Shopping Centre in Stoke on Friday 19th May. It's a chance for viewers and listeners to re-visit the halcyon days of 1986 and take part in a green-screen Top of the Pops as well as find out more about the BBC's Domesday Reloaded project by talking to a BBC expert who will be able to electronically zoom into the square mile they lived in 25 years ago and update it with current information.
To support the launch of Domesday Reloaded, Radio 4 will provide programming focusing on the rise, fall, and rehabilitation of the BBC Domesday projects. Programmes include a special Domesday edition of 'Archive on 4' presented by noted historian, Michael Wood; 'Making History' as well as regular features on 'Saturday Live' and elsewhere.
In addition to the online and broadcast activity there will also be variety of learning resources and activities aimed at primary school children and families designed to get them hands on with their local history. Activities and resources available include Primary School Lesson Plans and regional workshops that are taking place across the UK.