Stoke City fan plans her fifth team tattoo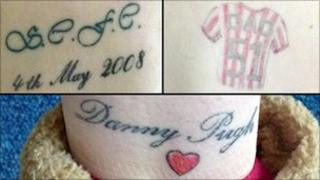 A Stoke City fan who already has four team-related tattoos has said she is planning to get a fifth to mark their defeat in their first FA Cup final.
Phillipa Hopwood, 21, said she was "still proud" despite the 1-0 Manchester City win on Saturday.
Although she had tickets for Wembley she was too ill to go to the match.
Miss Hopwood said she wanted her fifth tattoo, in the shape of a wedding garter on her thigh, to read: "Still loyal, still proud, still Stoke."
Miss Hopwood, from Middleport, Stoke-on-Trent, said she had been "gutted" she had to watch the game from her bed.
She said: "The first half I was worried we didn't get that much of the ball.
"We lost in the end but I wasn't that disappointed because it was just good for us to be there."
Miss Hopwood already has tattoos of the club's red and white-striped team shirt, the club's initials, along with the date it was promoted to the English Premier League, and the name of Stoke defender Danny Pugh.
The club has gained automatic entry into the Europa League by reaching the FA Cup final.
"I'm excited about Europe and I used that as my comeback all day yesterday," Miss Hopwood added.
Stoke City Supporters Club chairman Bryan Shaw admitted after the game that fans had been disappointed.
He said: "We had hoped for a cup final win. The atmosphere had been building up for weeks in Stoke.
"Even though we lost, I don't think any Stoke fan would have swapped their day at Wembley for anything. There's no denying Man City was the better team on the day but it still took them 74 minutes to score and they only won 1-0."