Campaigners fight Churnet Valley rail and quarry plans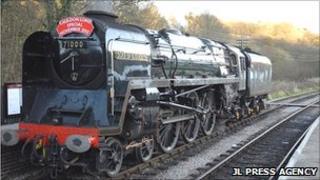 A conservation group is trying to head off two proposed developments in the Staffordshire Moorlands.
The Friends of the Churnet Valley are campaigning against plans for a new leisure park on the site of a quarry between Whiston and Oakamoor.
They are also worried about a possible train line to Alton Towers.
Both sets of developers insist that their plans will not unduly affect the valley and will benefit the area in the long run.
A founder of the campaign group, Dot Merry, said support from outside the area has been "phenomenal" and their campaign has struck a chord with many visitors to the area.
Heritage line
Ms Merry said: "Not everybody wants to take their families to a theme park. A lot of it is just people who just love the countryside.
"We talked to ramblers, cyclists, riders and climbers and the response [to the campaign] has been phenomenal."
The Friends said they want the valley, which is known as Staffordshire's Little Switzerland, preserved for future generations.
Moorland and City Railways (MCR), which recently reopened a heritage line between Leekbrook Junction to Cauldon Lowe stretch in the Churnet Valley, wants to restore a train service between Stoke-on-Trent and Alton Towers.
One of the people behind MCR, David Kemp, said he worried that people misunderstand the plan.
He said that reports that trains will travel at 70 mph and that people will no longer be able to use the line for walking are both wide of the mark.
"It will be a single track south of Oakamoor tunnel, all the way to Alton... it can still carry a full footpath," he added.
"This is an arrangement which is not uncommon around the countryside."
Special beauty
The other development in the pipeline is turning Moneystone Quarry into Moneystone Park.
Peter Swallow, who is working on the project on behalf of Laver Leisure, said: "It isn't a theme park, it isn't going to be another Alton Towers.
"If we can couple local requirements with visitor requirements, we can provide some facilities that can benefit the area as a whole."
Conservative leader of the district council, Sybil Ralphs, hopes to strike a balance between development and preserving the special beauty of a place like the Churnet Valley.
"We work very carefully with everyone and we listen - not only to the people that live there, but the people that are wanting to bring development there; people who want to create jobs.
"But it mustn't be at the expense of that beautiful area or the people that choose to live there."