Whitfield Valley Reserve swans shot dead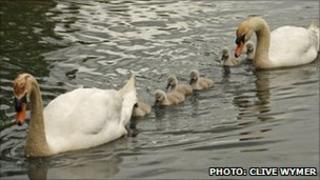 A family of eight swans has been found shot dead at a nature reserve in Stoke-on-Trent.
The RSPCA and police are investigating after the two adults and six cygnets were discovered with airgun pellet wounds at the Whitfield Valley Reserve.
The swans were discovered on 14 May and their bodies were retrieved from a pool by Staffordshire Fire Service.
RSPCA inspector John Groarke said the bodies were X-rayed and were found to have pellet wounds.
He said multiple pellets were recovered from the adult pair while the cygnets, which were about four weeks old, had entry and exit wounds.
'People outraged'
Mr Groarke said: "It's a complete mystery to me why people feel the need to go out and hurt defenceless wildlife.
"I would urge anyone with information to provide us with details. We can trace the weapons from the pellets recovered from the bodies."
Joan Walley, MP for Stoke-on-Trent North, said she was calling on the police and fire service to hold talks with the council to target wildlife crime at the site.
She said in the past the swans' nest had been vandalised.
She added: "Local people are outraged at the killing of swans and cygnets.
"Much work has been done to enhance the site and encourage its use.
"Now there is widespread shock, anger and shame."
Radio listener Clive Wymer said when he heard the swans had been killed he decided to send the BBC a photograph he had taken of them days before they died.
He said: "I took this photograph last week at the Whitfield Valley Nature Reserve in Stoke on Trent.
"On our local news today we heard that this beautiful little family of swans with their six cygnets have all been shot dead."
He said he hoped showing the photo in the media would lead to information on the "sick, cruel and callous act".