Stoke-on-Trent children's centres consultation to start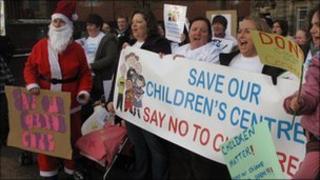 A six-week consultation period is set to start on the services that will be delivered by children's centres in Stoke-on-Trent.
Stoke-on-Trent City Council is seeking the views of the public on how the services will be offered.
The consultation comes on the back of government funding cuts which forced the council to shave £36m from its budget for the current financial year.
The council said it had to reduce funding for the centres by £2.25m.
The consultation will run from 19 May to 30 June with the aim to implement changes in September.
Feedback 'critical'
A consultation document will be available from children's centres and on the council's website from 26 May.
Feedback from the consultation will be presented to the council's cabinet on 28 July.
Debra Gratton, cabinet member for children's services and life skills, said: "We are eager to seek the views of as many people as possible as to the services they want to see delivered by our children's centres.
"It is critical we get as much feedback as we can so that when hard decisions are to be made, they are done so having considered as much information and as many people's views as possible.
"We are committed to continuing to provide children's centres and view them as integral to improving the life chances for children and families in the city.
"We now need feedback to help us redesign a sustainable children's centre service for the future."
In February it was announced seven children's centres in Stoke-on-Trent had been saved from closure at the expense of libraries, care homes and a swimming pool.
The city council said in November 2010 it needed to close seven Sure Start centres to help it save £33m.
The council changed its mind about the children's centre closures after public opposition.