Whitfield Valley Reserve swans killings prompts arrests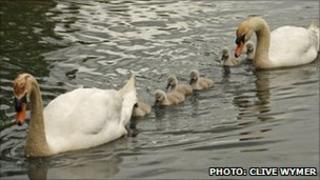 Four men have been arrested in connection with the killing of a family of swans at a Stoke-on-Trent nature reserve.
Two adults and six cygnets were discovered with airgun pellet wounds at the Whitfield Valley Reserve on Saturday.
Police said the men, all in their 20s and from the Stoke area, had been arrested on Thursday.
The RSPCA said several pellets were found in the adult pair of birds.