Woman dies during fire at house in Lichfield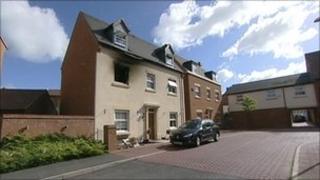 A woman has died during a house fire in Staffordshire, an ambulance spokesman has confirmed.
The woman's body was recovered after a fire at a property in Thacker Drive, Lichfield, which had started at about 1915 BST on Monday.
West Midlands Ambulance Service said neighbours, two men aged 30 and 53, had tried to rescue the woman.
Both men were taken to hospital and a third man was treated by paramedics at the scene.
Fire crews said the fire had most likely been started by a cigarette.
'Smoke inhalation'
The ambulance service spokesman said: "Crews arrived within four minutes of the initial call and were faced with a house that was well ablaze.
"They were told that two neighbours had gone into the property to try and get the householders out. Sadly, despite their efforts, the body of a middle-aged woman was recovered from the property."
He said the men who had gone into the property were both treated for smoke inhalation and taken to Birmingham's Good Hope Hospital for further assessment and treatment.
Fire crews said a neighbour had immediately called 999 and then tried to rescue the woman with another neighbour.
They tried to enter the property three times but were unable to reach a bedroom where the woman was, the fire service said.
Lichfield area commander Phil McFarlane said: "Whilst we do not encourage entering a property when there is a fire, their actions were certainly brave and they tried not once, but three times to rescue the lady."