Staffordshire grass fires put strain on fire service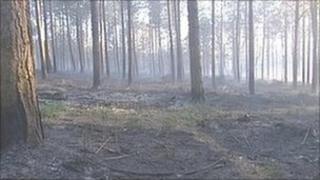 An increase in grass fires in Staffordshire has put a strain on the fire service, according to a report by the chief fire officer.
Figures show the number of grass fires has increased by 438.
From April 2009 to March 2010 there were 1,008 grass fires compared with 1,446 during the same period from April 2010 to March 2011.
Crews spent more than a week tacking a blaze at Million Wood, in Enville, in May which caused widescale damage.
In the report, chief fire officer Peter Dartford said: "The increase in grass fires coincided with a warm dry start to the summer and placed a strain on the service.
"The high activity levels during this period increased operating costs, reduced capacity to deliver community fire safety and stretched response cover arrangements."
The report will go before Staffordshire's Fire Authority on Monday.