Appeal to restore Longton listed chapels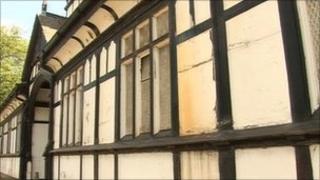 Two listed chapels in a cemetery in Stoke-on-Trent could be brought back to life as a visitor centre or cafe, a campaign group has said.
The city's Victorian Society said the Longton Cemetery chapels in Spring Garden Road were being "neglected".
They said the council's approach of sealing off the chapels to protect them from vandalism was not a long-term answer.
Stoke-on-Trent City Council said it welcomed any suggestions.
The society wants "a creative approach" to bring the buildings back to life.
The Grade-II listed chapels were built in 1864.
The society's conservation adviser Chris Costelloe said: "Of course the fabric of the buildings must be maintained but to ensure their future the chapels need a viable new use.
"That means getting people back inside and bringing the buildings back to life, not putting boards on the windows and hoping for the best."
He said elsewhere such buildings had been successfully converted into offices, visitor centres and cafes.
Councillor Gwen Hassall, the council's cabinet member for housing and neighbourhoods, said: "The city council would welcome any suggestions and ideas about how Longton Cemetery Chapel can be brought back into use, and would be willing to work with the Victorian Society if a viable plan can be established."