Churnet Valley's special landscape 'under threat'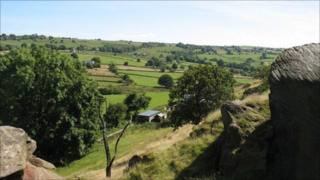 Modern pressures on old habitats have led a wildlife charity to develop a project aimed at protecting a "special" Staffordshire landscape.
The project area for the Churnet Valley Living Landscape partnership spans 77 sq miles (200 sq km).
The area runs to the Peak District National Park to the east and encompasses Biddulph Moor and Consall to the West.
It stretches north-south from Rushton Spencer to Alton and includes the Churnet Valley, Weaver Hills and Ipstones Edge.
The land is rich in grassland, wildflowers, birds and butterflies.
Examples of wildlife in the area include curlews, barn owls and brown hares.
It also contains a number of old bridges and dry stone walls, which show the valley's long links with agriculture.
But it is modern pressures on agriculture which are now putting pressures on the area.
Liz Pegg, spokeswoman for Staffordshire Wildlife Trust, said a number of factors threaten the valley.
'Low farming incomes'
"There are currently a number of pressures on the area which, if action is not taken, will result in damage to or even loss of its special character," she said.
"Low farming incomes, agricultural intensification and loss of wildlife habitats, a decline in the condition of attractive features such as old bridges and dry stone walls, and a shortage of young people entering land management are just a few examples of the problems facing the area."
She added: "The area encompasses some of the finest countryside in Staffordshire outside of the Peak District.
"It has many original landscape features such as dry stone walls, steeply wooded valleys and considerable areas of good quality wildlife habitat such as meadows rich in wildflowers."
In an effort to preserve the area's wildlife and heritage, the trust is working with a number of partners including the NFU, Natural England and the RSPB.
Last year, the partnership was awarded £100,000 by the Heritage Lottery Fund (HLF) to lay the foundations of the project.
If this stage is successful, HLF will award a further £1.9m, which will then be match-funded through a variety of sources.
The first stage includes a farm apprenticeship scheme and diversification training to get more people into farming and land management, a woodland and grassland conservation project to protect the area's ecosystems and improvements to the Staffordshire Way walking route along the River Churnet.
Community involvement
The partnership has spent six months researching what work needs to be carried out to protect the long-term future of the area.
They will now spend the next four and a half years making the projects a reality.
To keep residents informed of the opportunities to get involved, an open evening is being held on Wednesday evening at Cauldon Lowe Village Hall.
Representatives from the Churnet Valley Living Landscape partnership will be displaying information about the projects that make up the programme and giving visitors the chance to ask questions and make comments about the projects, which are set to run from April 2012.
People can also find out how to get involved, and anyone with ideas for small community projects will be able to register their interest in a grant scheme.
Project development officer Keith Tomkins, of Staffordshire Wildlife Trust, said: "Over the last six months the partnership, together with many other organisations and individuals, has consulted, surveyed and researched the issues and opportunities of the area.
"At the open evening we would like to show what has been done and what we as a partnership wish to achieve over the next four and a half years.
"Between us all there are more than 30 separate projects which will come together to create one big programme of activity.
"Please come along, see what we plan to achieve, let us know what you think and see if you want to become involved to help us deliver these projects."