Staffordshire strikes: Hundreds of teachers take action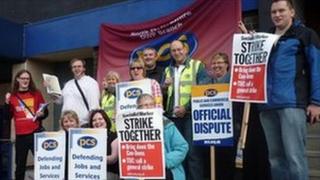 Hundreds of teachers in Staffordshire joined a national strike by public sector workers in a dispute about pay and pensions.
Staff from the Department for Work and Pensions' branch and HM Revenue and Customs, both in Stoke-on-Trent, also took industrial action.
They were joined by union members at Fenton, Newcastle-under-Lyme and Stafford magistrates' courts.
David Cameron said reform would stop the pensions system from "going broke".
At least 150 schools in east Cheshire, Stoke-on-Trent and Staffordshire were affected by strike action.
John Skur, 52, is a teacher from Cannock and a member of the ATL union.
He travelled from Staffordshire to Birmingham to take part in the protest in Victoria Square.
He said: "I'm confident that going on teaching until you're past it is not good for kids. Kids need dynamic teachers."
More than 3,500 schools in England and Wales closed on Thursday and 2,600 others partially closed due to industrial action by the Association of Teachers and Lecturers (ATL) and the National Union of Teachers (NUT).