Stoke-on-Trent City Council admits parking fee error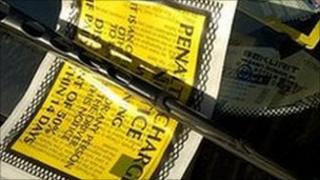 A Staffordshire council has admitted a "technical error" has lost it £17,851.80 in parking revenue.
Stoke-on-Trent City Council has apologised to users of car parks at Fenton Manor Sports Complex and Dimensions Leisure Centre.
A spokesman said a mistake meant some people paid for parking before the city council was entitled to charge them.
A traffic order advertising the introduction of charges was not published on the correct date.
Anyone who paid for parking in the period following charges being introduced on the previously free car parks between 1 and 28 June will now be entitled to a refund.
Anyone issued a fixed penalty in this period which they have paid will also be able to claim their money back.
Fixed penalties that were issued that have not yet been paid will be cancelled.
A council spokesman said the charges introduced were £1 for three hours and £4 for a stay exceeding four hours.
From 1 to 28 June the council collected £9,979.20 in pay and display charges for the Fenton Manor car park and £4,407.60 for the Dimensions car park.
In the same period £2,015 was collected from fixed penalty notices that were issued and paid at Fenton Manor and £1,450 from Dimensions.
'Unfortunate error'
Judith Kirk, assistant director for neighbourhood, engagement and partnerships, said: "We want to apologise to anyone who has paid for parking during this period as they shouldn't have done so.
"It was clearly a mistake on our part, and one that we have rectified as soon as we realised what had happened.
"Introducing parking charges at the two leisure centres was a way to address our budget shortfall, but also to make sure that the car parks were being used by patrons of the facilities."
Pete Price, assistant director for technical services, said: "This was an unfortunate error that is currently being investigated, and we need to find out exactly what happened to make sure it doesn't occur again.
"Our priority is to put things right as quickly as we can."