Staffordshire and Cheshire PFIs to cost taxpayers £6bn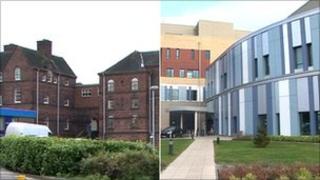 Private financing of public projects in Staffordshire and Cheshire could cost taxpayers £6 billion - four times the capital value of the projects.
There are 17 Private Finance Initiatives (PFIs) in operation across the two counties including schools, fire stations and the new University Hospital of North Staffordshire.
Treasury estimates value the buildings at £1.5 billion.
However, the eventual cost to the taxpayer will be just under £6bn.
PFIs were first suggested under John Major's Conservative government in the late 1990s and were widely used by New Labour after 1997.
Under the contracts, private companies build and maintain public buildings and are paid by the state over a period of 25 to 30 years. Once the PFI is paid off, the development falls into state ownership.
'Only game in town'
The deals have been likened to mortgages, but Professor of Health Politics, Policy & Management at Keele University, Callum Paton, says the terms are unfair and will put a strain on public services in the future:
"Yes it's a kind of mortgage [the] trouble is, it's a very bad mortgage... it's jam today and pain tomorrow."
However, the Labour MP for Stoke-on-Trent South, Rob Flello, defends the contracts:
"The only game in town was the PFI... you look at the sheer scale of the schools and hospitals we've built... they simply wouldn't have happened without PFI."
Tighter controls
Compared to Staffordshire and Cheshire, Birmingham and the Black Country have 21 PFI projects, and according to government figures they are worth an estimated £1.8bn, but will ultimately cost five times that much at £10.2bn.
The disparity between capital values and the cost to taxpayer has led to calls for some of the firms involved to offer voluntary rebates.
The Conservative MP for the Staffordshire Moorlands, Karen Bradley, who used to negotiate PFI contracts before becoming an MP, says that in her experience private companies did not set out to make an "excessive profit".
During a recent backbench debate at Westminster the Economic Secretary to the Treasury, Justine Greening, indicated there would be tighter controls on the use of PFIs in the future.