Amazon retail centre to create 900 Staffordshire jobs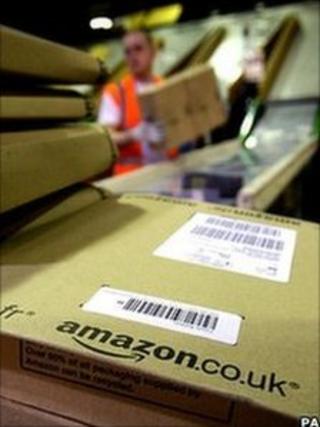 Online retailer Amazon has announced plans to open a new processing centre creating 900 jobs in Staffordshire.
The centre, in Rugeley, will start processing orders from September and will deal with customers from the UK and across the world.
It follows Amazon's announcement in May that it would create hundreds of jobs at new centres in Dunfermline and Edinburgh.
Since 1998 the company has sold a wide range of products over the internet.
'Talented people'
These include books, music, computer games and electronic equipment.
The Staffordshire development comes despite Amazon revealing a steeper-than-expected drop in profits earlier this year because the cost of expanding its operations offset a jump in sales.
Arthur Valdez, vice-president of operations at Amazon.co.uk, said: "The centre at Rugeley will play an important role in fulfilling orders for customers in the UK, Europe and all over the world.
"We have a busy Christmas coming up and look forward to assembling a team of talented people who will play their part in ensuring that customers receive the millions of items that will be ordered over the festive season."
Mike Dell, president of the Black Country Chamber of Commerce, welcomed the jobs boost.
He said: "It's excellent news. It brings jobs to an area that needs it.
"It also brings in infrastructure around it because it is not just Amazon that comes in but the whole logistics network that goes around them.
"It's going to create jobs in an area that desperately needs it."
In recent years the former mining town has lost scores of jobs.
In 2009 JCB said it planned to cut up to 196 jobs from bases in Wrexham and Staffordshire, including Rugeley.
Aidan Burley, Conservative MP for Cannock Chase, said jobs were the number one thing people in his constituency wanted.
He said: "It's absolutely fantastic news for Rugeley and for Cannock Chase.
"People are crying out to get back into work.
"It's perfect to kick-start getting Cannock Chase back on the map."