Sniffer dogs donated to Staffordshire Police by charity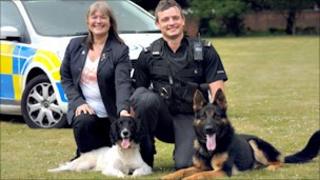 Two new recruits, trained to sniff out any sign of trouble, have joined the ranks of Staffordshire Police.
Jasper, an English springer spaniel, and Echo, a German shepherd, have been donated to the force by Sniffer Dogs UK and International (SDUKI).
The recently launched charity is the brainchild of Maggie Gwynne. She is hoping to boost the numbers of police dogs.
Staffordshire Police is only the second force in the country to be given dogs.
'Plug the gap'
Ms Gwynne, the charity's chief executive, thinks that recent governments have put too much of a squeeze on police budgets.
Staffordshire Police is facing cuts of £35m over four years.
"The cuts year on year by successive governments have brought the UK police dog sections to this point.
"We [SDUKI] now exist to plug the gap that's been left by the government."
She says that the charity will almost certainly be helping a lot more police forces.
Insp Chris Dawson, head of the force's police dog support unit, said the donation was a "welcome help" but denied that the force had become dependent on charity.
'Taken the strain'
"Staffordshire Police has to prioritise where it spends its money.
"We've looked at the dog section. It is an essential part of day-to-day business and we would have to find the money from somewhere.
"But that would have to come from another budget, so Maggie has basically taken the strain off us."
Jasper is a specialist explosives search dog and will be working towards the Olympics. He will search areas before dignitaries and VIPs arrive in Staffordshire.
Echo will work as a general purpose dog and both dogs will stay with the same handler, Pc Steven Cartlidge, throughout their service.