3 Mercian: Young men on the front line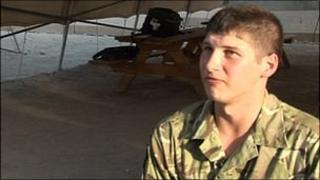 The 3rd Battalion of the Mercian Regiment (Staffords) is based in a number of locations in Helmand Province.
Its main role is to protect towns and roads from the Taliban and to train and work alongside the Afghanistan National Army and Afghan Police.
For many this is their first tour of duty.
At 18, Private Matthew Smith, from Stoke-on-Trent, is the youngest in A Company and admitted he was nervous about going to Afghanistan.
"I was scared. I didn't want to come out and I was thinking of ways to get out.
"But then I got here and it was completely different and I was glad I came."
'More cautious'
A Company is based at patrol base Rahim protecting the area from the insurgents.
"At first, we faced 28 days of fierce contact every day," he said.
"I got the most rounds off in the company, I'll put that one in."
But the death of his friend, 22-year old Pte Gareth Bellingham of C Company, changed his approach.
"It made you think more and be more cautious," he added.
"That same day I was running onto roofs with rounds in-coming thinking it was a joke and after that came out, I was just gobsmacked and I was like, I'm not doing that again, I'll actually take my time and crawl onto roofs.
"I won't actually run on and take rounds."
But being in Afghanistan has changed the way he lives and views life, and he now says he has learned to appreciate things more.
"It's been hard being away some nights but I got through because everyone else is in the same boat."
'Couldn't hear or see'
Pte Josh O'Hare, 18, from Shirley in Solihull in the West Midlands, is serving with a unit whose main role is to work alongside the Afghan National Army (ANA) and go out on the ground with them.
He said: "It's going pretty well but there are points that could be improved on.
"They have issues getting kit and fuel for the vehicles."
Like Pte Smith, he has come under small arms fire but said it was the Improvised Explosive Devices (IEDs) that were the main threat.
He described one incident, his first "contact in a warzone" as hard to deal with.
"Unfortunately someone stepped out the safe lane, resulting in two casualties, one was killed in action.
"I was about five metres away, I couldn't hear or see anything for about 30 seconds.
"I didn't know what was going on."
But his experience of life on the front line in Afghanistan has left him unsure about whether the army is a long term career for him.
"I wouldn't mind coming back but it's not something I'd want to do everyday because of being shot at all the time."
As many as 500 soldiers from the Midlands are serving out in Afghanistan fighting regular battles with the Taliban and on constant guard against the threat of IEDs.