Staffordshire Police plans to cut almost 800 staff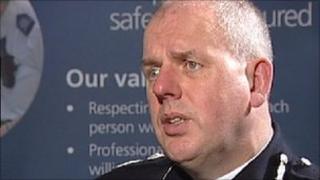 Almost 800 jobs are likely to go at Staffordshire Police by 2015, research by HM Inspectorate of Constabulary (HMIC) has revealed.
The force said it was facing a £38.7m budget cut over the four years and had already cut divisions and back-office support to save money.
Up to 384 police officers and 387 staff could go along with 25 community police officers, the figures showed.
The force might also merge some teams with West Midlands Police.
The figures were supplied by the force to HMIC last month.
'Changing landscape'
Staffordshire Police is also sharing buildings and equipment with local authority partners and from November all officers with more than 30 years' service will be required to leave.
Revealing the proposed cuts, HMIC said the force had a plan for the first two years of the Comprehensive Spending Review period which includes the structural reorganisation.
The spokesman said at the time of its inspection, firm plans were not yet in place for 2013-14 and 2014-15 - although options such as increased collaboration were being considered.
In a joint statement, Ch Con Mike Cunningham and Staffordshire Police Authority chairman David Pearsall said they were in a strong position for a "changing policing landscape".
Jobs have been affected as more than 80% of the force's budget is spent on staff, they added.
"This independent inspection report should reassure local communities that the force and police authority are committed to maintaining services and cutting crime - despite the financial challenges we face.
"It's a tribute to all staff that at a time when budgets are reducing significantly, crime continues to fall and victims' satisfaction rates are going up.
"Last year saw the lowest crime levels since the current crime recording system was introduced nine years ago (2002)."