Staffordshire Hoard showpiece of Cultural Olympiad tour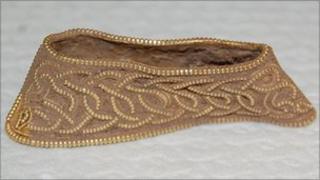 A man dressed as an Anglo Saxon warrior has ridden through Staffordshire for the start of the county's Cultural Olympiad ahead of the 2012 Olympics.
The horse rider carried a flame torch to Stafford, Tamworth and Lichfield which are hosting an exhibition of the Staffordshire Hoard Anglo Saxon gold.
The event formed part of a national movement to celebrate the history of the Olympics and Paralympics.
The county will host the Olympic torch next May on its journey to London.
Saxon burial
Staffordshire Hoard items have been on display at Shire Hall in Stafford, and will go on display at Lichfield Cathedral and Tamworth Castle between July and September this year.
Staffordshire county councillor Pat Corfield, cabinet member for culture, communities and customers, said: "The Staffordshire Hoard caused a sensation when it was discovered back in 2009 and it is now firmly embedded in our cultural heritage."
In addition to the touring exhibition of Anglo Saxon gold, people in Stafford, Lichfield and Tamworth were able to try on armour and witness a mock Anglo Saxon burial and take part in other activities from the Dark Ages such as calligraphy and tool making.
A poetry relay also took place on Saturday at locations in Staffordshire, Worcestershire, Warwickshire and Shropshire as part of the West Midland region's contribution to the Cultural Olympiad.
The 10-man relay began in Stoke-on-Trent where the first poet performed the start of a collective poem, which each subsequent poet added to.
Once the whole poem had been performed racing pigeons were released to carry the 10 poetry segments back to their loft in Birmingham and the order in which they arrived determined the final form of the poem.