Volunteers aim to reopen Tunstall Pool Victorian baths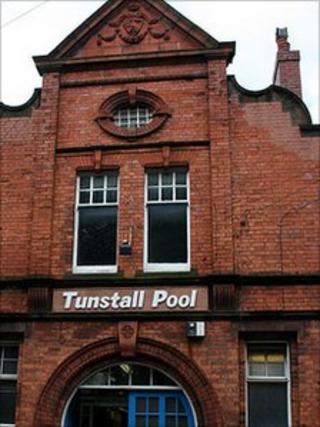 The vicar of a church in Staffordshire said he was optimistic a community group could reopen Victorian baths that were closed down due to spending cuts.
Stoke-on-Trent City Council said it was forced to close the city's Tunstall Pool in April due to budget cuts.
Residents have formed Tunstall Community Pool Trust to try to run it.
Father John Stather, from Christ Church in Tunstall, said the group had spoken to the council and a business plan would be submitted within seven days.
"A couple of weeks ago we submitted a draft business plan to the city council and we had a meeting with them to clarify a few points and we are now in the process of getting together our final business plan which is due in next Friday," he said.
A spokesperson for the council, which is run by a Labour-led coalition with the Liberal Democrats, said in March that closing the pool would save it £82,000 per year.
The pool first opened in 1890 and was, until April, one of the oldest Victorian Baths in England still in operation, the trust said.