Railway electric shock victim in danger warning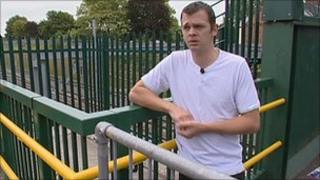 A man badly injured when he suffered an electric shock from overhead wires as he played near a railway as a boy is warning others of the dangers.
Nathan Wood, 25, from Tamworth in Staffordshire, was throwing domestic electrical wire over a railway bridge with his cousin when he was aged 12.
He has talked about his injuries in a video released as part of Network Rail's summer safety campaign.
Nationally, there were 27 deaths last year, the firm said.
'Like hell'
The video highlighting the dangers of playing near rail tracks has been released to coincide with schools breaking up for the summer.
Speaking in the video, Mr Wood said: "The first thing I remember after it happened was coming round and taking a huge, deep breath.
"Noises were slowly getting louder and louder but I couldn't get up.
"When the ambulance took me to hospital, I was screaming with the pain as they had to cut off my clothes which had stuck to me.
"It was like hell and I thought my life was over.
"I'm still suffering now, the cold really affects me and I get a lot of pain in my foot and can't wear regular lace-up trainers."