Staffordshire survey into rural broadband 'notspots'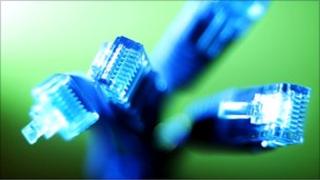 They are called broadband "notspots". They run the length and breadth of the county. And local councillors are determined to put an end to them.
A survey into the quality of broadband connections across Staffordshire has revealed a lot of notspots - areas, often rural, that have very slow internet speeds or even no connection at all.
Staffordshire County Council commissioned the research in May this year but it has now decided to extend the deadline to give more people the chance to take part.
The authority is hoping the results will enable it to bid for government grants to improve the service, particularly in rural parts of the county.
Staffordshire's cabinet leader for assets, Mark Winnington, said: "Fast broadband connection throughout Staffordshire is an essential factor in improving the county's economy and prosperity.
"We've consulted people and had roadshows... and we've found notspots from one end of the county to the other."
Test your speed
Mr Winnington says it is vital that more data is gathered and urged more local people to take part.
"Until we know where there's a problem, we can't fix the problem."
The survey can be found on the county council's website and includes the opportunity to test your computer's broadband speed.
Culture secretary Jeremy Hunt has outlined plans that aim to give every community in the UK high-speed broadband by 2015.
The government is using money from the BBC licence fee to part fund the plans which will provide money to rural areas to build so-called digital hubs.