Staffordshire Hoard on display at Lichfield Cathedral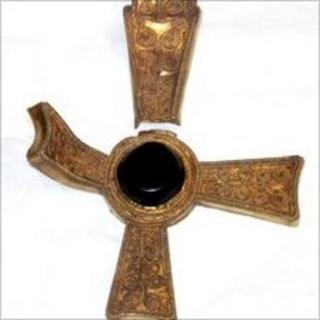 The Staffordshire Hoard has gone on display at Lichfield Cathedral, the closest the treasure has been to where it was dug up in 2009.
More than 3,500 gold and silver artefacts were found in a field in Hammerwich making it the UK's largest find of Anglo-Saxon treasure.
More than 14,000 free tickets have been taken to see about 40 items which are on show until 21 August.
The hoard was discovered by a metal detector enthusiast in July 2009.
The collection is now jointly owned by the Birmingham Museum and Art Gallery and the Potteries Museum after £3.3m was raised to keep it in the area.
After being on display in Lichfield, the treasure will go on show at Tamworth Castle from 27 August until 18 September.
Canon Pete Wilcox, from the cathedral, said: "We're delighted to be working alongside our colleagues at Birmingham and Stoke to help bring the temporary touring exhibition to life.
"In Lichfield, visitors will get the chance to learn more about the links between the hoard and the cathedral's existing priceless treasures, including the St Chad Gospels and the Lichfield Angel.
"The exhibition will also describe more about the politics of the time and the region's transition from Paganism to Christianity."
Earlier this month it was confirmed that another exhibition, Anglo-Saxon Hoard: Gold from England's Dark Ages, will open at the National Geographic Museum in Washington later this year.