St Mary's Church in Alsager employs open door policy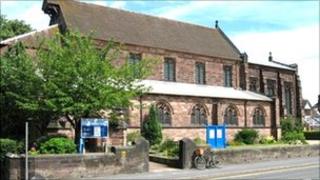 People living in south Cheshire may have noticed a big conversion project going on at St Mary Magdalene Church in Alsager.
The Parish Church Council - with the help of grants from WREN and the Youth Capital Fund - have overseen a £170,000 facelift of the Grade II listed building.
Christened the Open Door Project, organisers hope the building will be used by community groups and charitable organisations as both a place of worship and a community facility - either for free or for a nominal rent.
Work is now almost finished and the church, which is over 100 years old, is set to reopen on Thursday, 29 September.
Wakeman concert
June Grocott, part of the warden's team at St Mary Magdalene, said: "We're trying to be a proactive church.
"If we can get this as a major concert venue, then we're going to attract more people to come in, have a look around and see what we can offer."
Plans to turn the church into a viable music venue have already received a major boost with the news of their first booking.
Rick Wakeman, best known for playing electronic keyboards with the band Yes, and more recently, appearing in the BBC comedy series Grumpy Old Men, will be performing a one man show on 21 April next year.