Oasis 21st Century Church opens in Crewe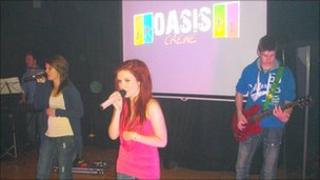 Organisers of a new church in south Cheshire are hoping to attract young people - and those who would not normally set foot inside a place of worship.
Oasis 21st Century Church has just opened its doors in Crewe and features live music, spoken word performances and an after-service cafe to chill out.
It is part a new breed of churches across the North-West of England with other venues in Warrington and Blackpool.
Chris Wibberley, who helped to set up Oasis in Crewe, said: "There are plenty of great churches around Crewe.
"But none are really suited for people that don't go to church; people that have all these preconceptions about church already; that just want to meet with God in a 21st Century way."
Breaking down preconceptions
But do not go expecting to find a church building with pulpit and pews. The church is based in a theatre at King's Grove High School - not exactly a typical setting for a traditional service.
Mr Wibberley says that the building helps to break down preconceptions about what church is like.
"It's the whole culture of church that we're trying to do differently."
They are hoping to attract people aged between 11-45 and around 50 worshippers attended the first event on 24 July.
Visit the Oasis Crewe website for more information.