Two found guilty over murder of Tunstall father-of-two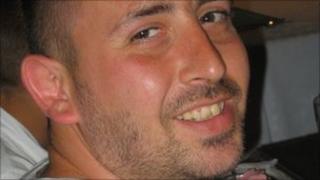 A woman and a man have been convicted of killing a father-of-two from Stoke-on-Trent.
Sheree Smith, 19, was found guilty at Stafford Crown Court of murdering Andreas Fantousi. Michael Gordon, 22, was found guilty of manslaughter.
Mr Fantousi, 30, was stabbed in the neck during an argument in Bond Street, Tunstall, last November.
Two others - 19-year-old Sophie Manning and 23-year-old Ricky Gregory - were convicted of violent disorder.
Gregory, of Bond Street, will also face a re-trial on the charge of murder after the jury was unable to reach a verdict.
Smith, of no fixed abode, and Gordon, of Bond Street, have been remanded in custody to be sentenced next month.
'Family is crumbling'
A statement by Mr Fantousi's mother, Abigail Weedy, who is currently caring for his two sons, was read out in court.
Part of the statement read: "My husband and I have worked all our lives. We paid our mortgage off and were looking forward to our retirement and a happy life together. Instead we buried our son Andreas one week before Christmas. Andreas's sons had Christmas without their daddy whom they adored.
"My son was always my little prince and I worshipped the ground he walked on. He was a loving and caring son and adored by all. I will never get over my son's death.
"I as a mother miss him every single day. Andreas was my only son and came from a good ethnic working family.
"Our family is crumbling through this awful time and I have to be strong for us all but it is taking its toll now. Our beautiful family are now focusing on Andreas's little boys to look after their future as they did not deserve to lose their beautiful daddy."