Leek Show casts doubt over £200,000 sports village grant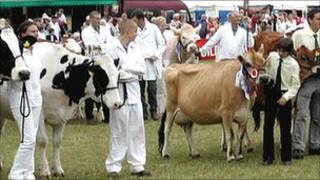 The UK's largest sports charity has threatened to withdraw a £200,000 grant towards a new £1m sports village in the Staffordshire Moorlands.
The Football Foundation had offered the money on the condition that the annual agricultural show in Leek was not held at the Birchall Playing Fields site.
But Staffordshire Moorlands District Council leader Sybil Ralphs insisted there was no other suitable location.
The foundation said the Leek Show would damage drainage work under the pitches.
'Ritually destroyed'
"The show would entail lots of heavy machinery and would almost certainly damage the work that we'd paid for," said foundation spokesman Rory Carrol.
"Money for grass roots sport in particular has always been tight, but at the minute, is incredibly tight.
"There is no question that we'd be able to pay for something that in 12 months time would be damaged and then ritually destroyed."
Ms Ralphs said the council had tried for many months to find alternative sites, but a decision on the location of next year's event had to be made because it "couldn't leave the organisers [of the show] hanging in the air".
She said that the council was still in talks with the foundation, but that even if the £200,000 grant was refused she was very confident they would find the money from somewhere else.
Funded by the FA Premier League, The Football Association and the government, the foundation has a £30m budget to invest in grass roots sport.