Personal injury claims rise in Staffordshire schools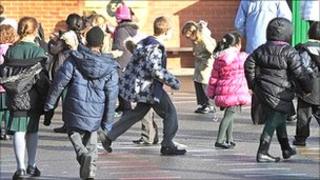 Almost £58,000 in compensation was paid out to Staffordshire schoolchildren for personal injury claims in the last financial year.
There were 11 cases, ranging from trips and slips, to a girl who hurt her arm while putting away a trampoline.
The largest payout was over £10,000 to a pupil who slipped and fell on some logs.
The information was published by Staffordshire County Council after a Freedom of Information (FoI) request.
Although the number of claimants is down from 14 in the previous financial year, the actual amount paid out has risen by more than 40%.
'Accidents will happen'
More than £5,000 was paid out to a girl who trapped her arm and wrist while putting away a trampoline.
And almost £4,500 was paid to a student who was hit in the mouth by a bell.
Ian Parry, deputy leader of Staffordshire County Council, says it could be part of a so-called 'compensation culture' - but denied it was a growing problem.
"You will get ambulance chasers encouraging people to make claims, that perhaps in the past, they might not have claimed for.
"But it's not something that's on the rise. These things fluctuate from year to year.
"Obviously the first priority of every member of staff in every school is the safety of children, but inevitably, with 400 schools, accidents will happen."