Shot soldier Zak Cusack 'stayed on radio' as he died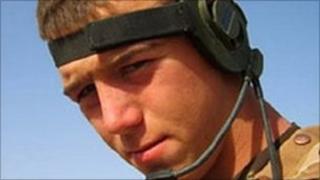 A Staffordshire soldier who was fatally wounded in a gun battle in Afghanistan managed to report the enemy's position before he passed out, an inquest heard.
Zak Cusack reported on his radio he had been shot from a ditch in a field near Enezai village in Helmand province.
The 20-year-old from Stoke-on-Trent was part of a five-man team in the 4th Regiment Royal Artillery whose role was to push back the local insurgents.
An inquest in his home city heard he quickly died of his injuries on 26 May.
The gunner was struck in the abdomen and died of internal bleeding.
But in the minute or so before he lost consciousness Mr Cusack reported key information up through his chain of command, North Staffordshire Coroner's Court heard on Tuesday.
A verdict of unlawful killing was recorded.
At the time of his death, his family described him as "courageous and compassionate".
It was his second tour of duty in Afghanistan and he had been serving there since March 2010, the first time he was deployed was on his 18th birthday in 2007.