Fundraisers help Stoke Minster to raise church roof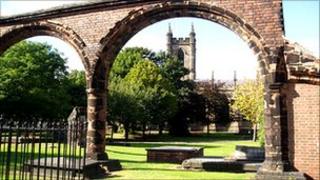 Churchgoers in north Staffordshire have raised more than £25,000 to get a new roof for Stoke Minster.
In April last year, a gang of men from Crewe stole the lead from its roof. Insurers only paid out £5,000, leaving the congregation to raise the rest.
Rector David Lingwood said that the "community had really pulled together".
St Peter ad Vincula is Stoke-on-Trent's civic church, where world-famous potters Josiah Wedgwood, Josiah Spode and Thomas Minton are buried.
"The whole of the lead had gone and we hadn't got the money," said Mr Lingwood. "We were facing major, major restoration work on getting the roof back on.
"It was really quite a desperate situation. When we first faced this it was almost despairing. But then people rallied round and it was really very encouraging to know that there was that support."
Mr Lingwood said extra security measures had now been put in place to prevent further thefts.