Tom Condliff told NHS will pay for gastric band surgery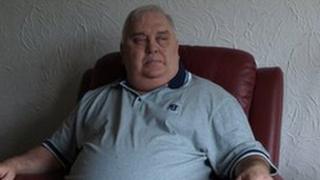 A 22-stone ex-policeman has been told he can have "life-saving" NHS obesity surgery, despite losing a legal case after being rejected for it previously.
Tom Condliff, of Talke, Staffordshire, said he needed a gastric band after becoming obese from taking medication.
NHS North Staffordshire said his body mass index (BMI) of 43 was below its usual criteria of 50 for surgery.
In July, Court of Appeal judges rejected a bid to force the trust to operate but it has now agreed to.
The primary care trust (PCT) said it had received a second "individual funding request" (IFR) on 10 August to fund 62-year-old Mr Condliff's obesity surgery.
'Exceptional circumstances'
In a statement, the PCT said: "The request and the new supporting medical evidence was thoroughly examined by our clinically led panel and Mr Condliff's clinical circumstances were found to be exceptional as outlined in our policy."
It said funding was granted on an individual basis and would not lead to the introduction of treatment for a specific group, which was handled by another process.
The PCT said Mr Condliff's case had been judged to differ significantly than most people with his condition.
It said the panel felt he would gain significantly more benefit from the operation than the average person with his condition would.
Mr Condliff has been diagnosed with 13 illnesses and has been prescribed 28 different drugs to treat them.
He said: "I am very, very pleased about the PCT's decision but at the same time I am rather concerned that I haven't changed since the last time the request for IFR in September last year, was put in.
"It was turned down then. So I don't know why it has been granted this time.
"I am looking forward to being able to get out of the house and to enjoying myself and having a decent quality of life."