Deaf charity to take legal action against council cuts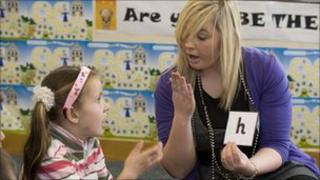 A deaf children's charity has said it is taking legal action against Stoke-on-Trent City Council for "reckless" cuts to support services.
The National Deaf Children's Society said the authority has halved the number of specialist teachers.
It claimed if further cuts went ahead three specialists would be left to cover more than 200 children.
The council said it would be inappropriate to comment on impending legal action.
The legal action calls on Stoke-on-Trent City Council to reverse its decision to cut educational support for deaf children.
Four of eight posts for specialist teachers of the deaf in the city have been cut over the past two years.
Another teaching post will be removed in September due to restructuring.
The charity said the council was in breach of the law on at least two fronts - by failing to properly assess the impact the cuts would have on deaf children and by bringing in changes that risk putting deaf children at a greater disadvantage.
'Utterly reckless'
Suzanne Pitchford, mum of seven-year-old Sam, who is deaf, said: "The council is just not listening, so this is the only way forward now.
"Sam isn't getting any support at school at all because of the cuts. They are not taking the needs of deaf children to heart and by taking away this support they are jeopardising our children's futures."
The charity's deputy director of campaigns, Jo Campion, said: "The council has been utterly reckless in its decision to cut support that deaf children in Stoke-on-Trent need to achieve at school.
"They have rushed these cuts through with no regard for the impact on the future of these deaf children and have left parents to rely on rumour to find out what exactly has been going on."
Teachers of the deaf provide support and advice for parents, help deaf children learn communication and language skills before they go to school and work with children and their classroom teachers throughout their education.