Lichfield Cathedral members walk Two Saints Way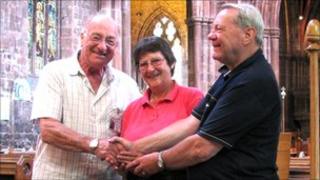 Two members of the Lichfield Cathedral community are walking the Two Saints Way between Chester and Lichfield to raise funds for the cathedral.
Eric and Margaret Harding have already completed 83 miles of the 90-mile journey and the couple already have pledges for £1,000 towards the East End Appeal.
They are now asking local residents to join them for the final stage of the walk on Saturday, 3 September - arriving at Lichfield Cathedral about 5pm in time for Evensong.
Anyone who would like to walk with them for the last part of the walk will be most welcome and should meet them at Castle Ring (on the southern edge of Cannock Chase) at 12.45pm prompt. Email Eric for more details.
Pilgrimage route
Margaret, a lay member of Lichfield Cathedral Chapter and her husband Eric Harding, who is a cathedral steward, started their long distance walk along the Two Saints Way on 28 June.
The first leg of their journey began at Chester Cathedral, where the couple attended Evensong and enjoyed meeting other cathedral volunteers.
Other highlights of the trip included visiting Bunbury Church, getting drenched in Calverley, meeting the organist at St. Mary's in Nantwich, and seeing the Staffordshire Hoard at Stoke-on-Trent's Potteries Museum.
The Two Saints Way Project hopes to establish a new pilgrimage route between the cathedral cities of Chester and Lichfield. The route is in honour of St Werburgh and St Chad, the patron saints of Chester and Lichfield cathedrals respectively.
East End Appeal
Patricia Collins, director of fundraising for Lichfield Cathedral, said: "Margaret and Eric are an inspiration to us all.
"In undertaking this walk they emphasise the community between cathedrals and their people, raise awareness of history, the meaning of heritage for present and future generations and are set to raise a considerable sum for the needs of the East End of Lichfield Cathedral.
The East End Appeal is hoping to fund a £3.7m restoration of the cathedral which involves the strengthening of the south and north choir aisles, the replacement of the external stonework of the Lady Chapel, and the conservation of the historic Herkenrode Glass.
Last year, Eric and Margaret completed all 92 miles of the Staffordshire Way from Mow Cop to Kinver Edge.