Memorial to American Civil War veteran John Livesley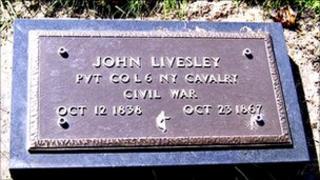 Hidden amongst the hundreds of gravestones in Hanley Cemetery lies a simple bronze plaque to the memory of John Livesley.
Recent research by Stoke-on-Trent Archives Service has brought to life the story of this Potteries man who fought in the American Civil War.
The council's archive department discovered letters and stories relating to John Livesley in a book written by the grandson of one of John's fellow soldiers.
In 1997, Hugh Troth from Ohio, published a tribute to his grandfather; The Life and Times of Isma Troth.
Using biographical information from this book and other social archives, the city council was able to piece together a picture of a local veteran of the war which saw the end to slavery in the United States.
Drunk at the time
Born in Shelton in 1838, John Livesley was the son of a local pottery manufacturer.
It is likely that Livesley could have lived a comfortable life in the family business as a potter, but a twist of fate would change that.
In January 1864, on a trip to New York, Livesley was enlisted into the 6th Regiment New York Cavalry, fighting on behalf of the Union.
The reasons why he joined are unclear, but there are strong suggestions he was drunk at the time. This is backed up by records that see him hospitalised for the first few days of his service due to "delirium".
Livesley's military career came to a swift end. In August 1864 he was admitted to hospital with gun shot wounds that would result in the amputation of an arm and leg.
As unhappy as this period might have been, Livesley's hospitalisation led him to meet a fellow soldier, Isma Troth, with whom he developed a close friendship.
The two talked about travelling back to England, a difficult decision for Mr Troth who was clearly concerned about Livesley's drinking habits.
'Rough characters'
In letters home, Mr Troth begins: "Mr Livesley is a good, kind friend of mine and is an honest, intelligent man."
But after talking of their plans to travel, Isma said: "If my friend associates and drinks these rough characters I shall not go with him, for I cannot place any confidence in a drunkard."
Having made it home to Stoke-on-Trent, Livesley set himself up as a grocer in Lichfield Street, Hanley, and married Ellen Twigg of Bucknall in 1866.
But only four months into his marriage, he passed away in 1867 aged 29 - having possibly never fully recovered from his wartime injuries.
When Hugh Troth learned of his grandfather's link with John Livesley, he contacted the United States government to obtain a bronze plaque recognising Private John Livesley's military service.
The plaque was unveiled in a simple ceremony at Hanley Cemetery in Stoke-on-Trent.