CCTV volunteers sought by Newcastle council to cut costs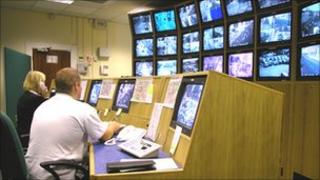 Volunteers are being recruited to monitor CCTV cameras in a bid to cut costs at Newcastle Borough Council.
The authority, in Staffordshire, said all new recruits would be given extensive training, and would have to go through criminal records checks.
But Staffordshire Police Federation said it had some concerns about volunteers being used instead of experienced security staff.
Staff will be unpaid and will work on a part time basis.
Earlier this year, the borough council announced it would review the monitoring of Newcastle's CCTV as part of plans to save £2.7m.
'Outside the box'
Stephen Sweeney, leader of the borough council, said recruiting volunteers would improve the service.
"Ideally we'd like to monitor these screens 24 hours a day, 365 days a year, but unfortunately we can't afford to do that," said Mr Sweeney.
"So this gives us the opportunity to increase the coverage for no cost.
"I think in these days of financial constraints, councils have got to think outside the box and come up with innovative ideas to save money while maintaining services.
"It is a big responsibility. But if you think of Mr Cameron's Big Society, this is people giving something back to fellow residents."
'Communication link'
Dean Colley from Staffordshire Police Federation said he had concerns about the "quality of the service".
"CCTV centres do have a direct communication link into the police... and can lead to evidence towards ongoing crimes.
"What's important is the actual training of these volunteers. It's essential that communication link does not suffer in any way."
Volunteers will be asked to monitor the cameras at the CCTV centre in Knutton Lane between 11:00 and 15:00 and 19:00 until 21:00 on a Friday.
Although Newcastle-under-Lyme town centre is currently covered by CCTV 24 hours a day, throughout the year, the control room is not manned all the time.