Sailability boathouse on Rudyard Lake faces delays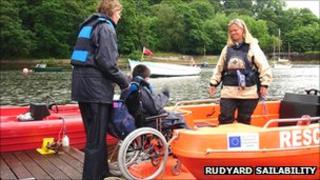 Construction of a new boathouse for a Staffordshire Moorlands sailing charity may be delayed by a year.
Rudyard Sailability makes it possible for people with disabilities to get out on Rudyard Lake near Leek.
It has installed a ramp for a new boathouse, but the £486,000 project has run aground after running out of money.
The charity says a lot of the funding usually available has been diverted to the 2012 Olympics.
Jackie Griffiths, the charity's secretary, said: "Funding at the moment has just about evaporated. We are in dreadful economic times.
"And a lot of the major funding organisations have had to redirect funding down to the Olympics.
"We really were knocking on doors and the cupboards bare."
The charity still needs to raise around £260,000 to build a new boathouse and changing rooms. The boats are currently stored on a farm seven miles away.
Chairman Dennis Priebe said work on the boathouse's foundations must start in the next few weeks, while the lake is at its lowest annual levels, or they will have to wait until next year.
Earlier this week, Rudyard Sailability received what is seen as the equivalent of an MBE for groups of its kind - the Queen's Award for Voluntary Service.
'Ultimate accolade'
"It's the ultimate accolade for groups of volunteers," said Mr Priebe.
"They've worked so hard for many years and they're so devoted, dedicated and loyal."
But Mr Priebe is frustrated the charity is unable to work at full capacity due the delays.
"We were the first centre of excellence for disabled sailing in the UK.
"Last year over 2,200 people with disabilities had a go at sailing on Rudyard Lake. We will be lucky to accommodate 1,000 this year.
"If we had a new boathouse, we could easily increase that number to 3,000."