Lichfield clergy lose final of Church Times Cricket Cup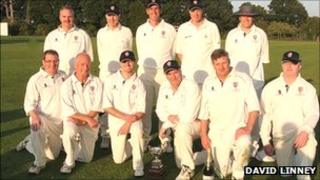 Lichfield Clergy Cricket Club lost out in what proved to be an exciting finish to the 2011 Church Times Cricket Cup.
Guildford snatched victory in the final over of a low scoring match at Middlesex's Walker Ground in Southgate, north London on Thursday, 8 September.
Lichfield won the toss and decided to bat first after the game had been reduced from 50 to 40 overs due to the poor weather conditions.
They scored a disappointing, but defendable 104 in their innings.
The signs were good for Lichfield when Guildford lost two early wickets on what was described by both teams as a "poor quality wicket".
It was a very close match throughout, but a late flourish secured victory in the final over for the men from Surrey, finishing on 106 for nine.
'Major achievement'
Congratulating Guildford on their win, the Lichfield Captain, the Revd Jeff Reynolds, the Methodist Superintendent Minister of Stafford, asked his Guildford counterpart to look after the cup, adding: "We're hoping to win it back next year!"
Lichfield were the cup holders - they won the competition last year, in what was their first ever appearance in the final.
The Revd Phil Searle, Lichfield's scorer, lifted the mood by reminding the players just how far they had come in recent years.
"Five years ago reaching the semi-final was unthinkable; and just a couple of years ago, just appearing in the final and lifting the runners up trophy would have been considered a major achievement."
The recent success and profile of the Lichfield Clergy Cricket Club has produced many requests for games and extra players are being sought for next year's bumper set of fixtures.
The Church Times Cricket Cup, which has been going for 61 years, is sponsored by one of the two independently owned newspapers providing weekly coverage of Anglican affairs in England.