Tickets to see Staffordshire Hoard at Tamworth Castle claimed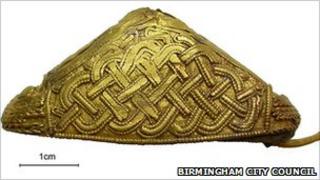 All 14,600 free tickets to see items from the Staffordshire Hoard at Tamworth Castle have been snapped up.
Fifty people can view items every half an hour between 10:00 and 16:30 BST at the castle until 18 September.
The hoard comprises more than 3,500 gold and silver artefacts and was the UK's largest find of Anglo-Saxon treasure.
It was discovered by a metal detector enthusiast in a farmer's field in Staffordshire in July 2009.
The temporary exhibition at the castle opened on Saturday.
The hoard is set to be viewed in the US from 20 October.