Staffordshire father sets up child abduction charity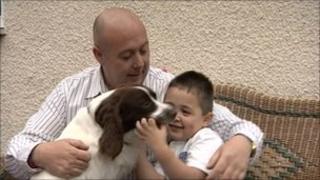 A father from Staffordshire whose son was taken to Thailand by his Thai wife against his wishes has set up a charity for the parents of abducted children.
Sean Fenton, from Norton Canes, near Cannock, used a private investigator to help track down his two year-old son Joe in his wife's native Thailand.
Posing as a rich businessman Mr Fenton made contact with his wife on Facebook, which led to him getting his son back.
Mr Fenton has set up the charity Abducted Angels to help other families.
He said: "When someone takes your child from you it is the worst feeling in the world.
"You are in complete turmoil. I know because I've been through it and I want to help others learn from my experience," he said.
The Abducted Angels website went live on Friday and aims to raise funds for families to help them trace their children and bring them back.
It also aims to attract the voluntary services of social workers and counsellors to help rehabilitate abducted children.
Mr Fenton said his son Joe was taken from the family home on 26 March, 2010, by his wife, known to her friends and family as Kim.
He reported the child missing and received a telephone call from Kim three days later saying that they were in Thailand.
Mr Fenton, 40, said his wife of four years had asked him to sign documents to secure her British citizenship, to pay her £30,000 and forfeit his property rights to land in Thailand, as the conditions for seeing his son again.
When Staffordshire Criminal Investigation Department became involved his wife broke off all contact with him, the self-employed painter and decorator said.
British authorities have no jurisdiction in Thailand, which is not a signatory of the Hague Convention, and abduction is not considered a crime in the Thai Kingdom.
'Nails ripped out'
Mr Fenton said he found his wife on Facebook registered under her Thai name.
He said he set up a false account, posing as a rich Western businessman and befriended her and her Facebook friends, which led to him tracking down her whereabouts in the north of the country in Chiang Rai.
In August 2010 he flew to Thailand and confronted her.
"When I saw Joe he was in a right state.
"He'd got chipped teeth, his finger nails had been ripped out on his thumbs and he'd got bruises all up his back.
"I don't know how that happened but he can't have been looked after properly."
Following negotiations between the pair Mr Fenton's wife allowed him to return to England with Joe in September 2010.