Armitage Shanks owner fined over River Trent pollution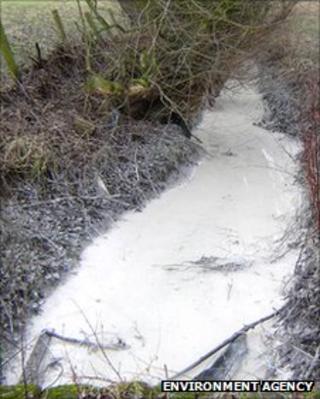 A Staffordshire bathroom company has been fined £8,000 for polluting a waterway feeding the River Trent.
Ideal Standard Manufacturing (UK) Limited pleaded guilty to one charge of polluting the Bardy Lane Brook in Armitage, near Rugeley, with clay and glaze slurry.
The case was brought to court by the Environment Agency after the brook turned white in January 2010.
The source was traced back to the firm's Armitage Shanks factory.
Armitage Shanks, famous for making toilets and sinks, was acquired by Ideal Standard 12 years ago.
It is thought the pollution problem was caused by frozen pipes.
The company was fined at Stafford Magistrates Court on Thursday and ordered to pay £2,341 in costs.
'Adequate control measures'
Ideal Standard's solicitor said the company was very sorry for its oversight.
He told the court that the incident occurred as a result of the extremely cold weather, and the company had now carried out upgrades on its systems to ensure it would not happen again.
Speaking after the case, an Environment Agency officer in charge of the investigation said: "They [companies] must have adequate control measures in place to prevent polluting material from impacting on the quality of the local environment.
"We take such matters seriously and will prosecute where circumstance justify."